It's all in the location and the details!  Your luxury villa holiday Greece is all about picking the right villa.  A villa in a perfect location and one that's finished and maintained to the highest standards.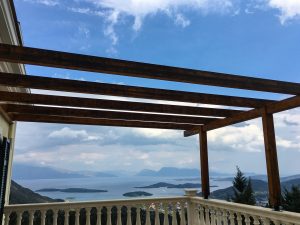 With the 2017 summer season fast approaching we're busy finalising some maintenance for Villa Gabriella Lefkada – the villa is a real hive of activity at the moment.
The pool has been cleaned and is due for sanding on Monday after which it gets repainted with epoxy pool paint meaning it will sparkle as it reflects the sunlit Greek sky!
All the external woodwork on the pagodas has been sanded and varnished today and they're gleaming in the beautiful spring light.
The gardens have been weeded (sadly we've lost a number of plants to the unusual snowfall and sub-zero temperatures in January) with replanting due later next week and we've just bought in three fabulous new hand made Greek pots with climbing jasmine to train over the poolside pagoda.  And the private terrace to the master bedroom is getting a new reed canopy for gentle shade – to be fitted on Monday – the old one was starting to flake.
On Monday we've got the heavy machinery coming in to roll and redress the road to the villa to give our guests a smooth ride to their luxury villa holiday Greece.  We look forward to welcoming our first guests on April 25th.  We've still got a few weeks left this summer (check our up to date availability on the "availability tab" here) so get in touch and book your perfect luxury villa holiday Greece at Villa Gabriella Lefkada.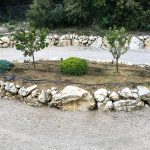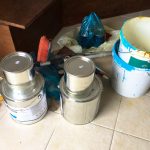 Villa Gabriella.  Ionian luxury.  Immerse yourself.