Previously we wrote about the pleasures of visiting the island's capital – Lefkas Town.  Despite Lefkada's small size the capital isn't the only place worth a visit.  The island offers a number of charming villages that make for an enjoyable and relaxing half-day trip.
Two of these are Sivota and Vasiliki.  Vasiliki is the larger and sits on a huge bay with a reputation for some of the finest windsurfing in the world.  It has a rare combination of wind and waves that caters to beginners, experts and all levels in between.
You can read more about the superb windsurfing in Vasiliki on our Facebook page at: https://www.facebook.com/VillaGabriellaLefkada/posts/1448046632120763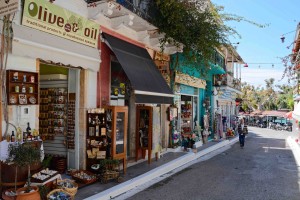 Aside from the world class windsurfing Vasiliki has a wide choice of quayside tavernas offering traditional Greek food and fresh, fresh fish.
You can also take a wander along the quaint main street with some good artisanal shops.
The village also boasts a very pretty church and one or two interesting artefacts (well interesting if, like me, you like BMW flat twins!)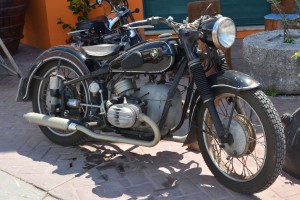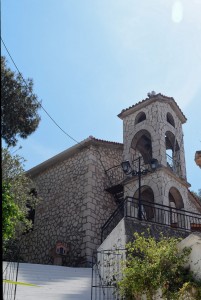 Sivota is smaller than Vasiliki and is best known for its fantastically sheltered harbour.  This makes it a stop of choice for yachts sailing around Lefkada and the Ionian islands.  In high season you'll find the quayside jammed with yachts with many more anchored in the bay.  The tavernas will be packed in the evenings with yacht crews and guests on sailing holidays giving the atmosphere a real buzz.  Off season Sivota is a rather sleepy place with a wonderfully relaxed vibe – the perfect place for a stroll and a leisurely lunch.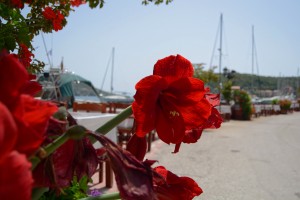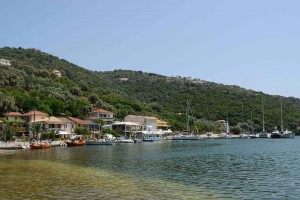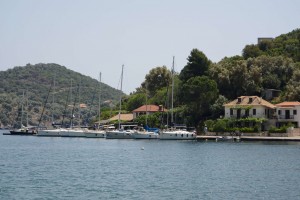 Both Vasiliki and Sivota are about 25 minutes from Villa Gabriella.  It's a pleasant and picturesque drive that takes you through the hills and which passes the highly recommended Lefkas Earth winery http://www.lefkaditikigi.gr/index.php?l=2#!/ that we featured in an earlier blog.  If you have the inclination it's well worth the time to stop, tour and taste their wines.
Villa Gabriella Lefkada.  Ionian Luxury.  Immerse yourself.