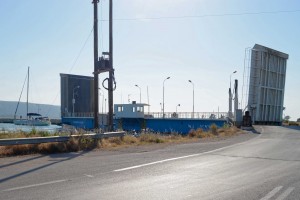 As beautiful as the Ionian islands are there is usually the problem of getting there.  You need to take a ferry and the next one isn't until tomorrow!
A real advantage of Lefkada is that is accessible directly from the Greek mainland by bridge.  In fact it's the only Ionian island connected direct to the mainland.
The 50 metre bridge opens for five minutes on the hour, every hour, to allow ships through.  Apart from those five minutes you can drive straight onto Lefkada whenever it suits you and without charge!
There are some great pictures of the bridge, the F/B (Floating Bridge) Santa Maura, at https://www.facebook.com/pages/Lefkada-Bridge/1419296871672969?fref=ts along with a little more information.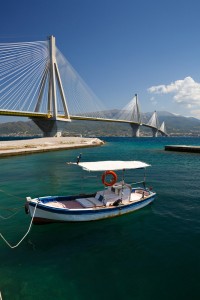 But this useful floating bridge is perhaps only half the story.  If you come to the Ionian from Athens then one highlight of what is anyway a beautiful drive along the north coast of the Pelepponese is arriving at the stunning Rio-Antirrio suspension bridge.  Opened one week before the 2004 Athens Olympics, the first people to cross were Olympic torchbearers.  There's more information on this stunning Greek bridge at https://en.wikipedia.org/wiki/Rio–Antirrio_bridge
Together these two bridges mean that driving to Lefkada is a ferry free experience allowing you flexibility and predictability in planning your journey.  To get the best from Villa Gabriella Lefkada you do need a car.  And with a car you really want the simplest possible drive to the island.  Even if you choose to rent a car on the island, and our ever-helpful villa manager Lilias can certainly help you with this, it's good to know that your arrival on the island isn't going to be at the whim of a Greek ferry timetable or short flight delay.
Villa Gabriella. Ionian Luxury.  Immerse yourself.