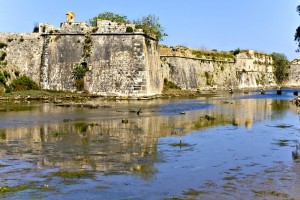 Many Greek islands offer a great opportunity to explore history from the ancient Greeks to the 20th Century.  If you're interested in history then you shouldn't miss the striking castle of Santa Maura.  Located in a commanding position overlooking the Drepanos Channel between the island of Lefkas and the Greek mainland the castle is a "must do" site during your stay at Villa Gabriella.
Originally built in 1300, the castle has suffered during history – earthquakes, fire and of course invasions have all taken their toll.  But thanks to major renovations what remains now is a remarkably well preserved piece of Greek islands' history.
Almost 200 years after the initial construction, during the Ottoman Turk period of rule, an aqueduct and bridge across the lagoon were built.   As a result of several earthquakes in the interim remains of the bridge can now be seen at the bottom of the lagoon.
After the Turks came the Venetians.  They built a new town on the other side of the lagoon and, in so doing, founded the modern capital of the island of Lefkada.  The Venetians reinforced the castle walls and built churches, schools, a barracks and governmental offices.  Much of the Venetian development was destroyed in 1888 when a  munitions explosion was followed by a devastating fire.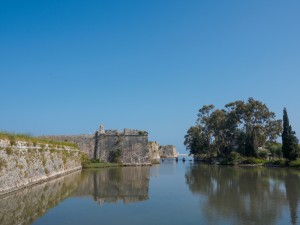 During World War Two, like a number of Greek islands,  Lefkada was subject to Italian bombing raids.  These caused further extensive damage to the castle.  After the war it was partially renovated to appear much as it does today.  It's now used as a venue for cultural events and a it's also a perfect place for visitors to investigate the history of the area.
Alternatively take time to look out from the castle walls across the lagoons.  They are one of the finest wetland habitats in the Greek islands and the permanent habitat of seagulls and herons as well as a migratory stopover for a wide variety of bird species including swans and pelicans.
If you'd like to read more about the castle of Santa Maura you can find an excellent article at: http://www.lefkada-greece.com/the-venetian-castle-of-agia-mavra/
Villa Gabriella.  Ionian Luxury.  Immerse yourself.