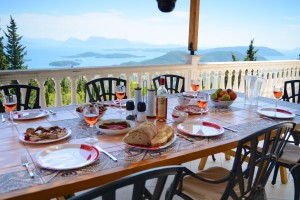 One of the real pleasures of a vacation in the Greek islands is eating "al fresco". Particularly if you come from a cooler climate there is something really very special about eating outdoors.
At Villa Gabriella Lefkada the dining terrace is fully shaded (perfect for breakfast and lunch) and enjoys the very best of the views.  Sitting and eating whilst gazing across the Ionian and the islands of Skorpios, Sparti, Madouri and Meganisi can only improve the taste of the food and the wine even further!
The large table comfortably seats eight with plenty of room for all the dishes you could possibly cook up.  One word of warning – you may need to move fast to have a seat facing the view!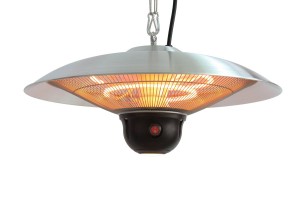 In the late evening the heater above the table can take any chill off the air which is especially useful during a vacation in May or October.
There are many good restaurants and tavernas in Nidri and across the island.  But there is something especially relaxing about opening a bottle of the excellent local wine, firing up the barbeque and relaxing with friends and family around the table. Especially when you know that, at the end of the evening, it's only a few steps to bed!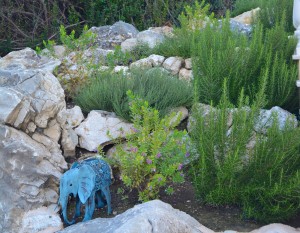 Take the advice of our villa manager, Lilias, to find the fresh fish shop in Nidri.  Or the amazing butcher in Lefkas town. Help yourselves to a handful of fresh herbs from Villa Gabriella's herb garden. Whip up a Greek salad with some fresh local feta. Visit Lefkas earth winery and stock up with a mixed case for the week. Together that's a combination for a perfect lunch or dinner.  Perhaps you'll never even need to eat out on vacation!
Villa Gabriella Lefkada.  Ionian Luxury.  Immerse yourself.