We've just finished editing the aerial video footage we filmed recently with our Phantom DJI drone.  We're pleased with the short, 90 second, video that demonstrates the beautiful and unique location of Villa Gabriella Lefkada.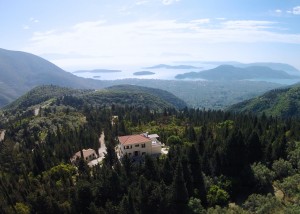 We've used several different, in-motion, perspectives of the house.  They clearly illustrate the absolute privacy that a holiday at Villa Gabriella Lefkada offers our guests.  The unique tranquility of the location on the cypress forested hillside is obvious as you watch.  There is nothing but trees visible for hundreds of metres in all directions!
The video shows the wonderful views over Nidri and the Ionian sea for which Villa Gabriella is becoming justly famous.  Views that guests remember long after their holiday has ended.  In the picture in this blog post you can see the main view.  This was taken with the drone hovering above the cypress forest behind the house.  Behind this forest is just an olive grove.  Behind the olive grove is just the mountain.  In short, you will never be overlooked at Villa Gabriella!  Visible in the picture, from right to left, are the islands of Meganisi, Skorpios, Skorpidi, Madouri and Sparti.  Just visible in the background is the Greek mainland.   And almost lost in the haze is Kalamos.  Kastos, the last of this group of islands, is completely lost in the haze of a beautiful summer day.
There's a link to watch the video from this website – https://villa-gabriella.eu/villa/.  Or you can go to our YouTube page https://www.youtube.com/watch?v=amqbjPHdqIY&feature=youtu.be .  Or try our Vimeo page https://vimeo.com/129578304
We hope that you enjoy watching the video as much as we enjoyed filming it.   And we hope that it will give you the perfect reason to book your luxury holiday at Villa Gabriella Lefkada.  We look forward to welcoming you before too long.
Villa Gabriella Lefkada.  Ionian Luxury.  Immerse yourself.