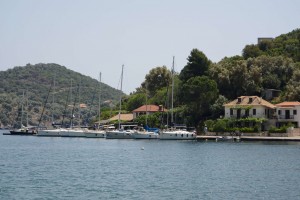 Depending on where you're from you'll refer to your stay at Villa Gabriella Lefkada as either your holiday or your vacation. Either way it's a great place to re-charge your batteries in or around the pool, terraces or hot tub. But if you want a bit more from your holiday then you'll be interested in a couple of options for a day out on the island.
Amongst the many things to see or do is a visit to the charming village of Sivota. At the south of the island, about 20-25 minutes drive from Villa Gabriella this tiny port boasts one of the most sheltered anchorages on the island with a wide bay accessed by a narrow seaway that bends sharply to ensure total shelter from the Ionian outside.
Alongside the yachts on the quay are an array of tavernas and restaurants offering traditional Greek cooking usually including fresh, fresh fish.  In high season it's a great place to people watch especially in the late afternoon when it's a hive of activity with yachts berthing in the traditional "bows to" or "stern to" Ionian style.  Done well it's a pleasure to watch but you're likely to see how difficult it can be if the quayside is crowded and the crew are less than seasoned!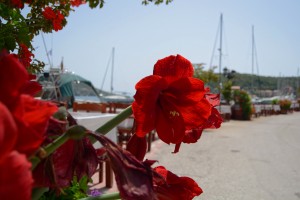 There are also a couple of interesting local shops featuring local crafts.  You take the stroll along the quayside to help work up an appetite, all the while trying to make a choice on which Taverna and which menu appeals most. If you stay into the evening the atmosphere becomes much more lively.  With a quayside full of yachts there's a real buzz to the place.
A few hours in Sivota with lunch or dinner and the short drive from Villa Gabriella come together to make a very pleasant half day out – if you really must drag yourself away from the luxury, privacy and tranquility of your holiday (or vacation) at Villa Gabriella.
Villa Gabriella.  Ionian Luxury.  Immerse yourself.