When guests choose a luxury Ionian villa for their holiday they want to find that villa in perfect condition.
Although Villa Gabriella is less than two years old we're busy with our 2015/16 winter maintenance programme.  This will ensure our 2016 summer guests find Villa Gabriella in perfect condition when they arrive.  We have a number of enhancements planned for the villa over the winter, all of which will improve the luxury Ionian villa experience.  But there's also some basic maintenance to do too.  Getting these basics right is critical to delivering the whole luxury Ionian villa experience.
Over the last few days we've been repainting the gates around the villa.  Originally made in Dubai in the winter of 2013/14 by Creative Steel (http://www.wroughtiron.ae) they unfortunately picked up some shipping damage on their way to Greece.  A few chips and nicks meant some early signs of rust needed to be made good.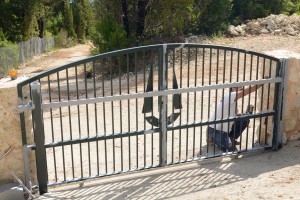 The recent perfect autumn weather on Lefkada has helped progress.  We've managed to get all six gates fully refinished – the pictures show three of them being lovingly repainted.   Hours of sanding back to the bare metal was needed before they were treated to a generous coat of primer. Only then were they re-painted in a beautiful shade of dark green. This colour is a perfect complement to the surrounding forest and the gates now look very splendid indeed.  Finally the Villa Gabriella sail design was repainted in gold. The end result is a truly magnificent welcome to our guests arriving at Villa Gabriella.
This level of care, maintenance and refinishing is just one small detail that contributes to making Villa Gabriella a true luxury Ionian villa.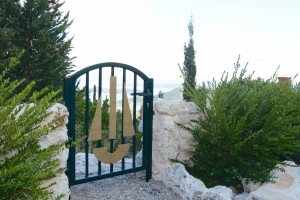 Villa Gabriella.  Ionian Luxury.  Immerse yourself.