With the 2015 season successfully closed at Villa Gabriella we're turning our attention to summer 2016.  With a programme of works planned for the winter we intend that your 2016 holiday at Villa Gabriella should be the ultimate experience amongst luxury Greek villas.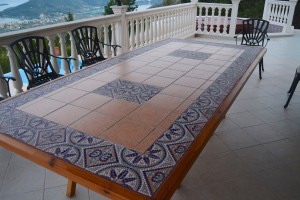 Of course we're blessed with a perfect location delivering truly stunning views amidst the silence and solitude of a cypress forested hillside and of course Villa Gabriella is equipped with a range of modern luxury fitments that befit luxury Greek villas.  But for 2016 we'll be bringing a range of improvements and we'll blog about these throughout the winter.
As we've been closing up for the 2015 season though we're reminded that attention to detail is critical for luxury Greek villas so we've been undertaking some minor maintenance jobs as we shut up.  First up has been the re-grouting of Villa Gabriella's terrace dining table.  This huge (seats 8 in luxury) table is made from a selection of ceramic tiles that blend the best of local Greek tiles and some wonderful Arabic tiles.  It's an ideal table for a quiet lunch with friends or family whilst taking in the vista – exactly the types of facilities that clients seeking luxury Greek villas want!  Or a perfect place for evening drinks and games amidst the warm Ionian summer evenings.  Following a session removing old and cracked grout the table has been fully re-grouted and cleaned and is in perfect condition for dining in 2016.
Villa Gabriella.  Ionian Luxury. Immerse yourself.