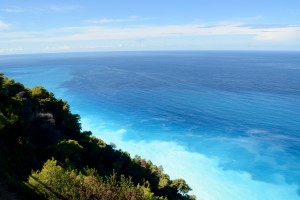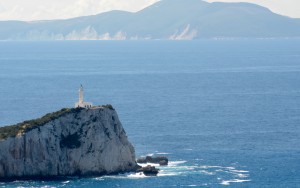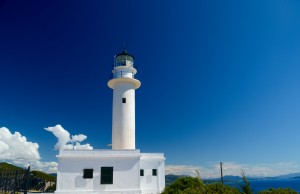 Earlier this week on our own vacation we took a drive down to the white cliffs of Cape Lefkada at the far southern point of the island. The Cape is a mixture of ancient and modern history and stunning natural beauty. Bathed in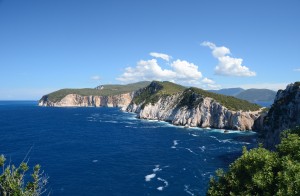 warm September sunshine the drive down to the Cape is an interesting mixture of winding roads and stunning views – perfect for a vacation day out. We took the road over the top of the mountain before heading south taking us past some stunning panoramas with the mixture of blues in the sea off the western coast truly breathtaking.
The Cape is now dominated by the lighthouse that has been in operation since 1890 with only World War II and the 1950 Earthquake causing interruptions to service. The lighthouse was built on a site that once housed a temple to Apollo and it's not hard to imagine why such a beautifully desolate spot once housed a temple to an ancient Greek God.
The ancient history of the cape is however dominated not by Apollo but by the legend that this is where the poet Sappho flung herself into the waters – the original "lover's leap".   Sappho was an Ancient Greek poet, born on and associated with the island of Lesbos rather than Lefkada. And indeed evidence that she did indeed leap to her death from Cape Lefkada is sketchy at best but it makes for a great story!  Today you're more likely to find those leaping from the Cape equipped with modern hang gliders as the winds around the Cape and the height of the cliffs make this a perfect place for starting a flight.  If you're brave enough perhaps that something else to try during your vacation.
From the Cape the views back to Lefkada and across the Ionian to the islands of Kefalonia and Ithaca are stunning. Throw in a dose of history and a pleasant drive from Villa Gabriella and you've the perfect recipe for a fabulous trip out during your vacation on Lefkada.