Whatever level of activity you want on your holiday we can help organise it – any activity holiday on Lefkada can be tailored to your preferences. You'll find the usual watersports, including sailing, windsurfing, paddle-boarding and scuba diving but the island also offers much more. Why not try cycling to see the beautiful coastal routes and the stunning mountainous interior that's just begging to be explored. For the avid cyclist or for the very fit you can rent conventional bikes. But if, like us, you think a holiday should be just a bit less strenuous we have a great alternative. Let us organise you an option for e-Biking Lefkada. With mountains rising to almost 1200m above sea level perhaps that battery boost is the perfect way to balance activity, fitness and stunning exploration.

So let us introduce you to the lovely people at Lefkada e-Bike Adventures. They operate a fleet of 10 top quality eBikes from the renowned German manufacturer Cube. All maintained to meticulous standards, they offer a range of tours that really allow you see the best of our beautiful island.
E-biking on Lefkada – Self-guided tours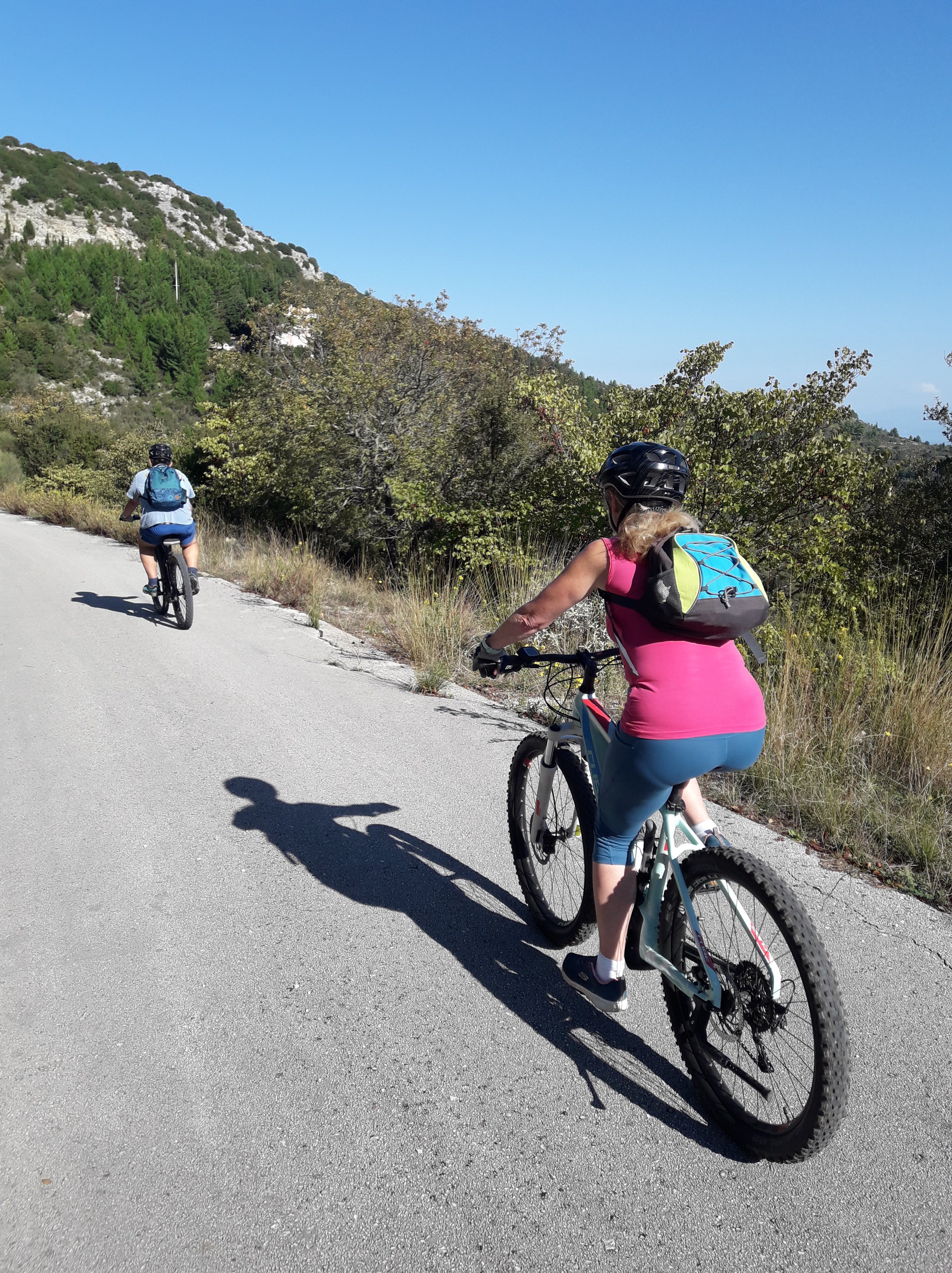 They can arrange self-guided tours using digital maps that work on your smartphone. Typically these tours last 3-5 hours depending on your pace and the itineraries include suggested stops. These tours are ideal for the independent minded and allow you to get off the beaten track and explore. With the back up of the digital map and route – just perfect for eBiking Lefkada.

Their fleet also includes one child's eBike (8+), so if you've a keen youngster with you they can join in. They also have a "Take Along" trailer and bike seats for children.
All rentals come with a helmet for safety, a smartphone mount on the the eBike and a side stand for easy parking.
The Cube eBikes use powerful Bosch motors and feature hydraulic disc brakes. With smooth shifting gears and on-board computers to monitor the remaining power in the battery you'll have great day out.
And if you've never ridden an eBike before, fear not. It's just like a normal bike but with that all important boost for the hills.
E-biking on Lefkada – Guided tours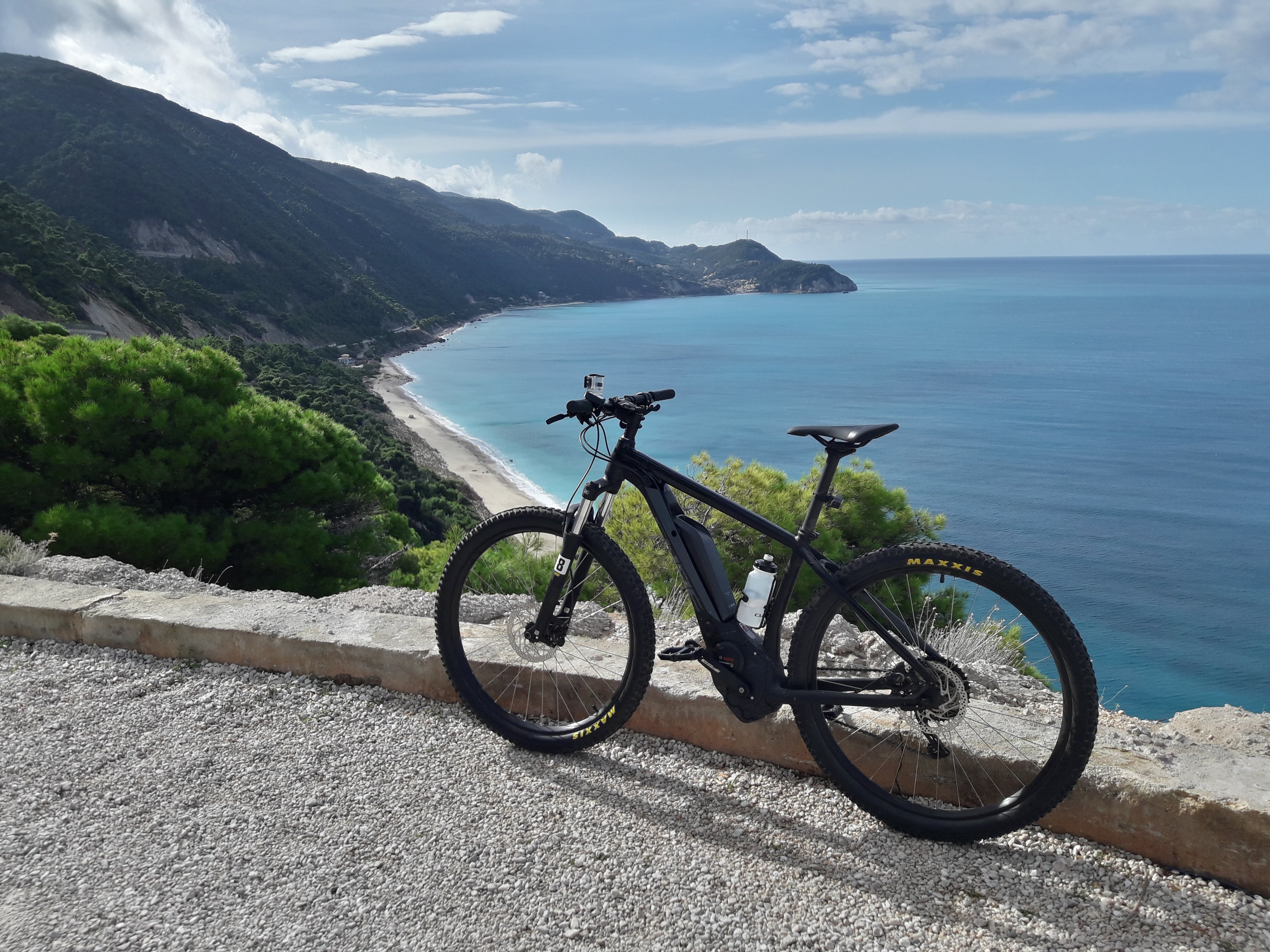 Those who'd like more personal guidance should try a guided tour. You get the benefit of local insights into the cultural and historical aspects of the island and the benefit of Greek speaking guides. Ideal to facilitate interactions with locals in the mountain villages where English isn't always spoken.
Tours can include visits to local wineries and a local olive press. Learn both how olive oil was made in the past and how it's made now.
Tours are usually on tarmac or on mixed terrain (tarmac/gravel) for the more adventurous. But wherever you go the tours focus on enjoyment. Enjoy the mountainous routes, learning about Lefkada and meeting local Lefkadians. The fact that you're also getting a workout to justify that beer before dinner, or that amazing baklava is a real bonus! Just how much of a workout does depend on how much you use the battery assistance. It's your activity holiday on Lefkada so you choose just how active to be!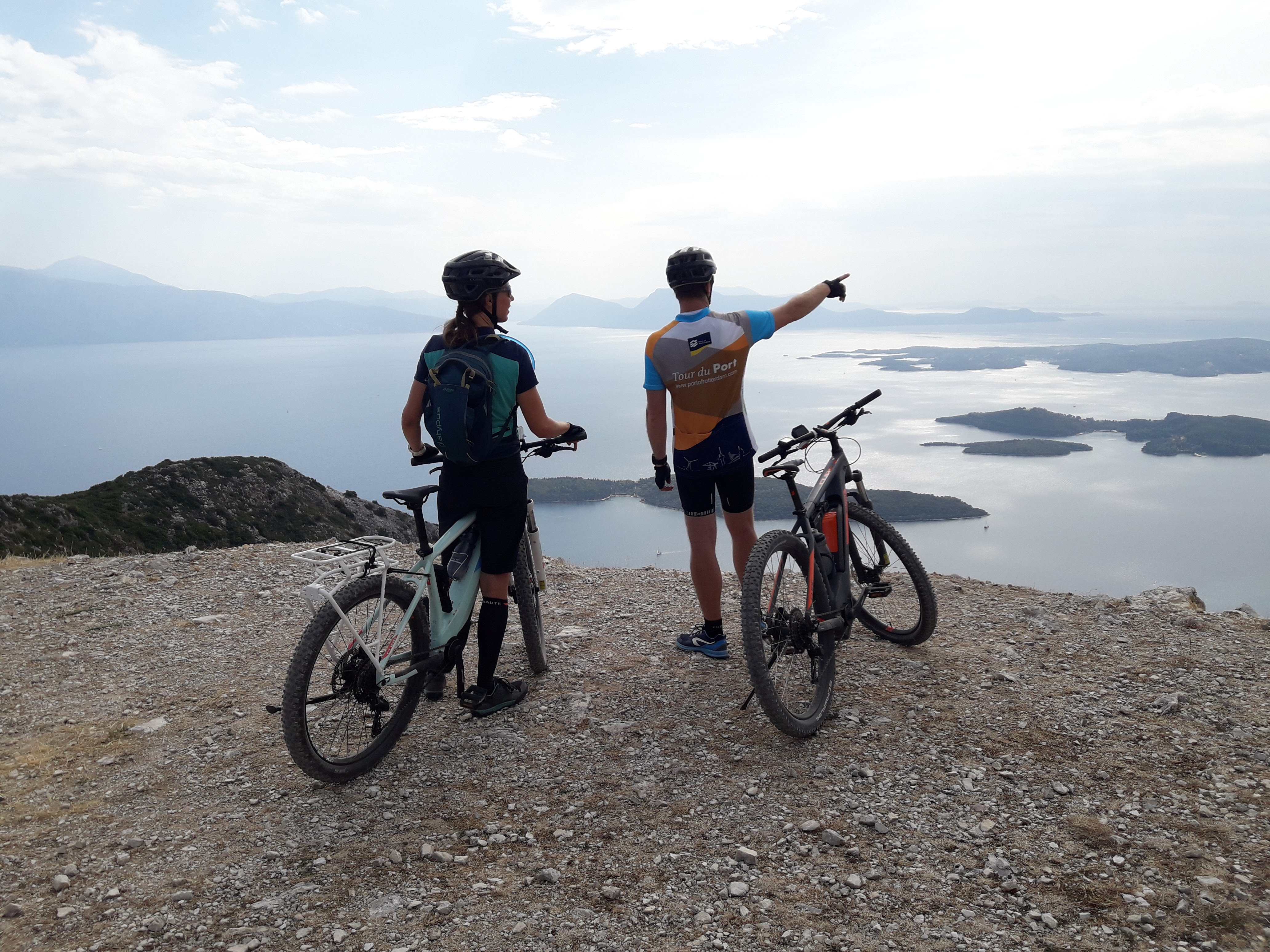 So whatever you want to do with your eBiking on Lefkada, we're sure that Lefkada e-Bike adventures have a perfect tour for you during your activity holiday on Lefkada. Check out their excellent reviews on TripAdvisor. And when you get back to Villa Gabriella there's the pool and the hot tub for a perfect way to relax after your efforts. Why not check our availability to find a date for your activity holiday on Lefkada.
Villa Gabriella. Ionian luxury. Immerse yourself.