We know it's not easy – this luxury Lefkada villa holiday business. It takes some doing. Lounging by the infinity pool, the warm sun on your back, staring at the beautiful view and sipping a cold beer or glass of wine. But decisions are needed. What to do now you've ticked "chilling by the pool" off your holiday bucket list?
So here's a few helpful suggestions of things you could do, most of which we can help organise for you if you let us know what you'd like to do. And of course if your list stops at "chilling by the pool" then that's just fine too – it's your holiday after all.
But if you're up for something more, let's start gently – you're on holiday remember!
Let's move from chilling by the pool and settle in the hot tub. The view's equally good and perhaps we might suggest taking a glass (or bottle) of fizz with you? That's a real luxury Lefkada villa experience! Or perhaps you could move to the lunch terrace, changing the angle of the view by a degree or two, for a lunch of fresh local ingredients washed down with another cold beer or glass of wine?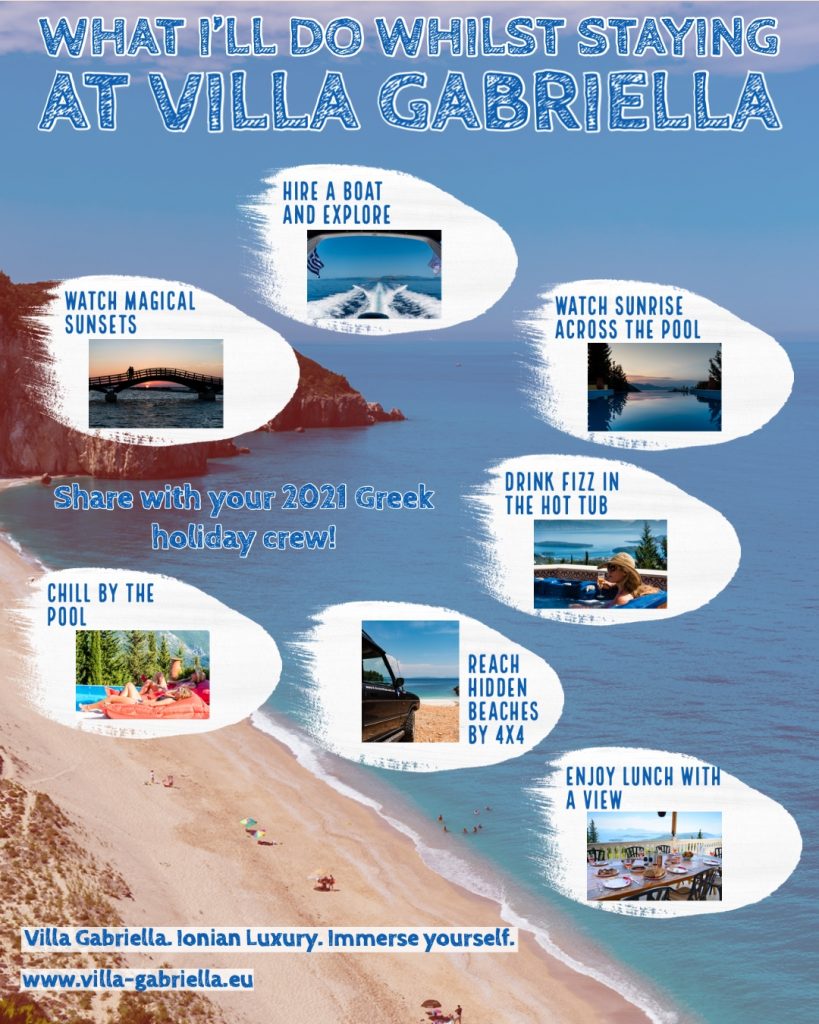 Something a bit more, energetic?
If you've ticked these challenges off your list then how about something that requires a little more "get up and go". Start early and watch the sunrise over the hills on the mainland from our terraces. A fresh coffee from our bean to cup machine will bring you round nicely to face the day.
Hire a boat and explore?
And then perhaps you should go and see our friends at Trident Boats and hire yourself a motorboat and have a meander around the local islands. A spot of lunch on Meganisi? A swim in a bay with no one else around from a beach accessible only by boat. Perfect!
To explore a little farther afield how about booking on a cruise on the MS Christina for their "Forgotten Islands" day trip. This beautiful wooden boat will take you further than your hired motorboat and someone else does the driving and cooking! After all you don't want to over do it on your luxury Lefkada villa holiday.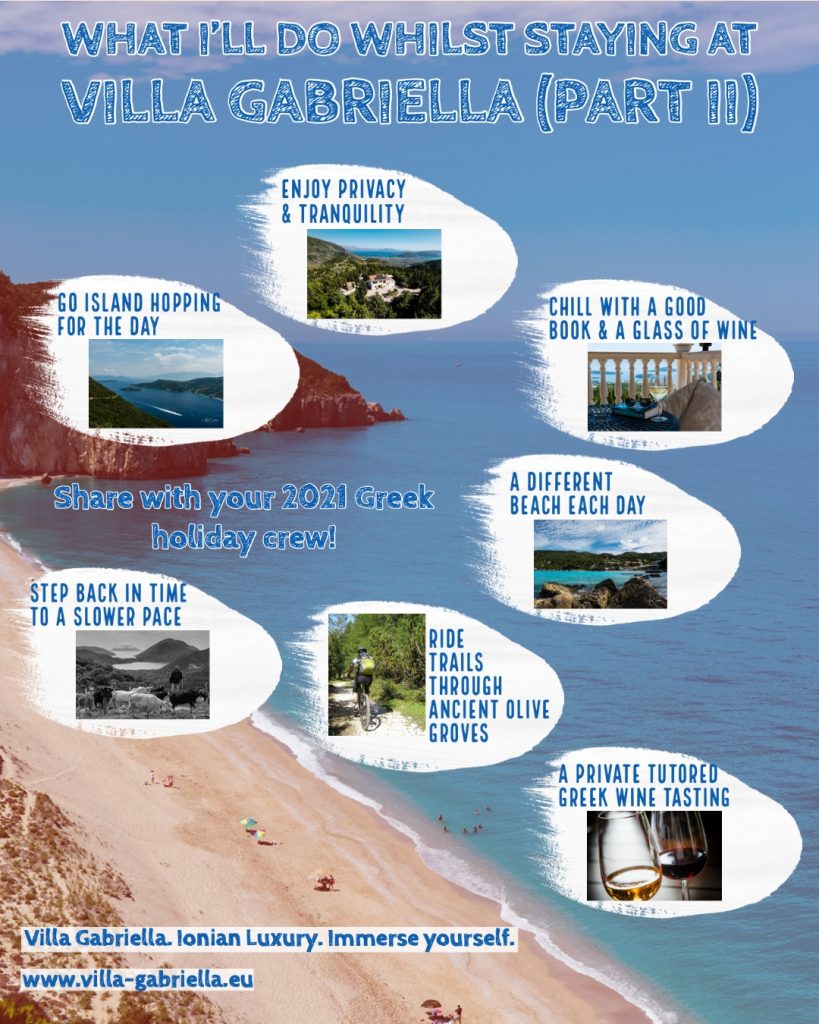 If you're feeling really energetic try our friends at Get Active Lefkas. They'll take you cycling (road biking or mountain bike trails) or hiking around the stunning interior of this island. If you like the idea of seeing the interior of our beautiful island (highest point 1182m) but you don't fancy the peddling, then book a private 4×4 Tour with the wonderful Yiannis at 4×4 Cruise Lefkada. You'll save those legs, but beware the waistline from his home grown, truly authentic Greek picnic food. At the end of the day perhaps you should relax with an aperitif in Lefkas town to watch the sunset over the town's beautiful wooden bridge.
A change of scenery from your luxury Lefkada villa?
If it's just a change of scenery you want then take a short drive to a different beach each day. Try the famed Egremini beach – considered one of the most beautiful in the world. Or try Agios Nikitas, Porto Katsiki, Kathisma, Mikros Gialos or Gyra beach – all listed as super clean "Blue Flag" beaches in 2020. After all, what's the point of a luxury Lefkada villa if you can't get to all the best beaches with just a short drive?
We can also help you arrange Horse Riding – another way to see the stunning beauty of this island. Or go sport fishing (in season); or learn to sail or go hire a yacht to go day sailing.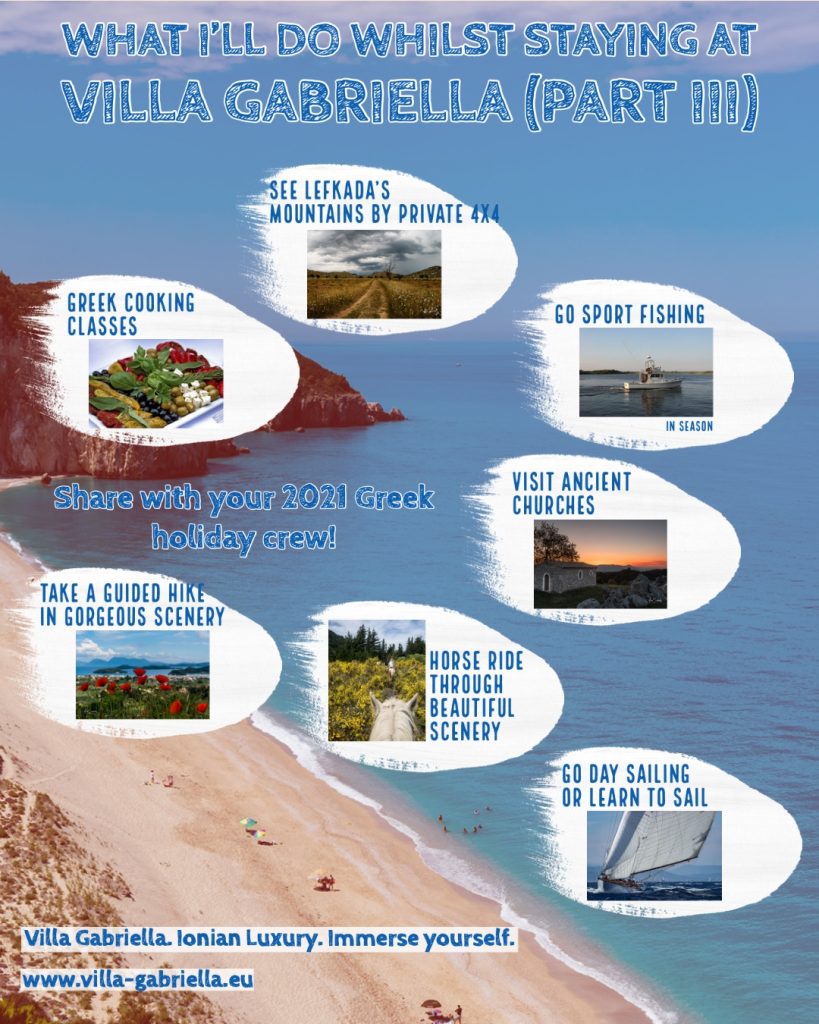 For something less physical there's always some Greek cooking lessons or a private tutored tasting by the knowledgeable team at de Blanck wines. They'll introduce you to some of the amazing wines coming from the artisanal wineries across Greece – you're sure to find some true treasures here! And you can take a few back to your luxury Lefkada villa to enjoy with lunch or dinner.
For the daring amongst you how about some tandem paragliding? Or hire a SUP and go paddle boarding? Or a windsurfer – Vasiliki at the south of the island is considered one of the finest bays for windsurfing (for beginners to experts) in the entire Mediterranean. Alternatively, go on a marine adventure and meet an octopus. Do you know just how friendly and just how smart the average octopus is?
Culture and history?
And of course Greece is always Greece – a place blessed with ancient history and culture. If this is your thing, then there are monasteries, ancient churches and castles and any number of ruins to explore.
When you're finally done you can always retreat to your luxury Lefkada villa. In some ways Lefkada is like stepping back in time to a slower pace of life. Chill on the terrace with a good book, cool off in the pool, or perhaps, if it's really all too much, just sleep in on our comfortable beds. All finished with luxury, high thread count, linens. Shhh.
Check our availability for summer 2021 here. And just give us a shout if you need any help!
Villa Gabriella. Ionian Luxury. Immerse yourself.
PS. Actually, we've still got a few more suggestions – just ask!!