Enjoy a glass of fine wine during your luxury Greek holiday to accompany the wonderful views from Villa Gabriella's terrace.  The Greek wine industry is full of some genuinely fabulous wines and you're lucky that in our local town of Nidri there is the most wonderful wine bar and shop – de Blanck Wine & Champagne.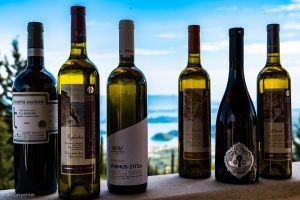 de Blanck is a veritable Aladdin's cave of Greek wine.  The owners, Anja & Bob, are hugely knowledgeable about their stock and full of passion for the wines they sell and the vineyards and wineries from where they're sourced.
Whether you're sitting in the de Blanck wine bar watching the people and boats on Nidri quayside or whether you're choosing some wines to take back an enjoy with dinner at Villa Gabriella you won't be disappointed.  Our picture shows a selection of six Greek white wines from different wineries, all from de Blanck, and together just a tiny part of the wide range they stock.
And if you know very little about Greek wine then you'll be in for a surprise.  The 21st Century Greek wine industry is full of truly beautiful wines from a number of indigenous grapes.  These are wines of the highest quality and often with fascinating back stories that are true partners to a luxury Greek holiday at Villa Gabriella Lefkada.
If you're interested in learning about some of the wines on offer you'll find that de Blanck also offer wine tastings from time to time as well – check their website or pop in and ask.  Or try a visit to the local Lefkas Earth Winery, just a few kilometres from Villa Gabriella where they produce a small range of good quality Lefkada wines.  For more information have a read of one of our older blogs on Lefkada wines.
"Yamas".
Villa Gabriella.  Ionian Luxury.  Immerse yourself.