During your Greek villa holiday at Villa Gabriella Lefkada you have a wide choice of things to do and see.  Many are discussed in our blogs here.   Today we're adding a visit to the charming church of Agios Donatos.  This church is the home of an unusual "lentil celebration" – held on August 7th each year.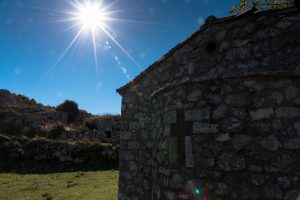 You will find this pretty little Greek orthodox church about 20-25 minutes drive from Villa Gabriella Lefkada located at the roadside above the village of Egklouvi.  Its' situation, some 900 metres above sea level, is really quite spectacular.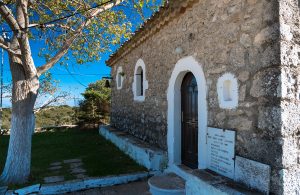 Originally dedicated to Agios Dometios the church was renovated in 1980. At this time the local people dedicated it to the memory of Agios Donatos, the Bishop of Lefkada.   In the year 284 AD the Bishop is said to have fallen from a high tower during the Christian persecutions of the period. The ruins of this tower are preserved near the church.
The views across Lefkada from the site (and the small hill immediately behind the church) are truly spectacular.  They are well worth the short drive during your Greek villa holiday at Villa Gabriella Lefkada.
A visit is probably best incorporated into a day out to explore the beautiful west coast, just take the road across the top of the island passing Egklouvi.
You can find a little more information at the Agios Donatos Facebook page at: https://www.facebook.com/Agios-Donatos-Lefkada-106781513664…
We wish you as beautiful a day for your visit as we had when we last visited and took these pictures.
Villa Gabriella.  Ionian Luxury.  Immerse yourself.