It might be a small detail in your luxury villa vacation Greece plan but a villa with a poolside bar might just be the difference between a great vacation and a truly amazing vacation.  At Villa Gabriella Lefkada we've just finished fitting out our bar – upgrading the poolside chill out lounge into an altogether more complete poolside bar.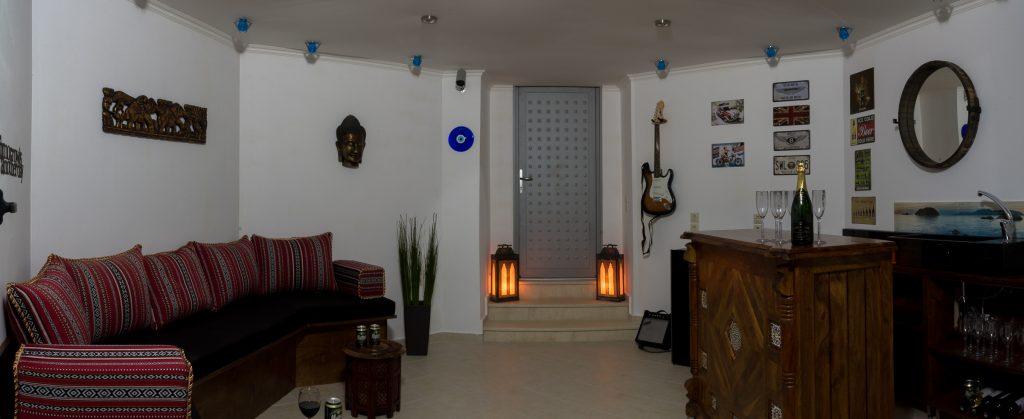 The bar is just a few steps from the pool terrace and still makes a wonderfully cool space to relax away from the full heat of the afternoon.  But in its' new guise it's also an amazingly cool place to enjoy the night after a long dinner on the terrace.  Light the candles in the lanterns or turn on the electric blue glass globes an settle in for an evening of relaxation on your luxury villa vacation Greece.
Fully equipped with a bar, glasses and a fridge for your beers,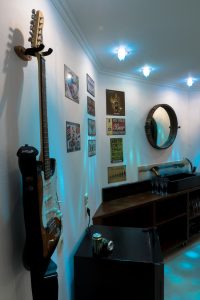 wine or cokes plus a beautiful handmade black granite sink you can pass the time late into the night chatting with friends and sipping a few drinks.
If the fancy takes you and you've got the talent plug our replica Stratocaster into the Amp and put out some guitar riffs and tunes to entertain friends and family.
If it's a special occasion break out the Champagne in the flutes provided and celebrate.  As our wall says – "Work, rest or play … tomorrow's another day …. on your luxury villa vacation Greece.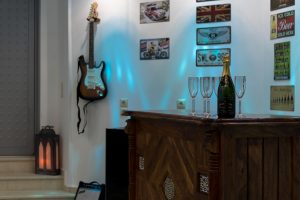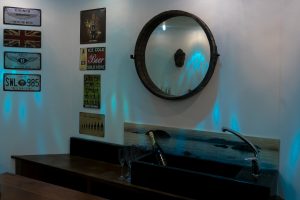 Villa Gabriella.  Ionian Luxury.  Immerse yourself.