During your Greek Villa Holiday you may have one of our own habits – a good read!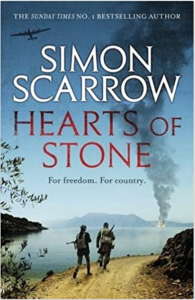 Joanna & I like little more than to relax with a great book during our own holidays.  A couple of weeks ago, we had the pleasure of attending a couple of days at the Emirates Airline Festival of Literature in Dubai.  One of the talks we had booked was with Simon Scarrow.  Simon is a leading author of historical fiction, noted especially for his wonderful works about the Roman Empire seen through the eyes of two common soldiers.  Now bear with me a moment whilst I explain what this has to do with your Greek Villa Holiday at Villa Gabriella Lefkada.
We were both reasonably familiar with Simon's work – he's been a feature on the bookshelves at home for many years and is especially liked by our son.  During the conversation he touched on a number of his books including one, "Hearts of Stone", of which neither of us was aware.
He was discussing having spent time in Greece researching for one of his other books when he came across a fascinating story about a Greek naval submarine, the Papanikolis, that was reputed to have hidden in the sea cave of the same name on the island of Meganissey, whilst attacking Italian shipping in the Adriatic. Meganissey is of course clearly visible from Villa Gabriella and you can easily take a trip to visit the cave during your Greek Villa Holiday.  This story ultimately led to Hearts of Stone, a book set largely on the wonderful island of Lefkada and telling the moving story of the Greek resistance.
Shortly after his talk ended we were the proud new owners of a copy of the book which was shortly signed for us by Simon over a short chat about the beauty of Lefkada.  It is now finding its' way to the bookcase in Villa Gabriella's sitting room where we're sure it will become a firm favourite of those guests who'd like an interesting insight, through fiction, into some of the tragedies that befell Lefkada during the war.
Much of the history we "promote" for visitors to Lefkada is ancient Greek history and the island has a treasure trove of such sights and antiquities all of which are easily accessible during your Greek Villa Holiday.  Hearts of Stone is obviously a very different time and it is fiction.  But nevertheless we love having the signed book on the bookcase and we trust that many of guests will enjoy reading it during their holidays at Villa Gabriella Lefkada.  We ask only one thing – please leave it for other guests to enjoy when you depart.
Below is an extract from the goodreads book review to offer you a short taster …. having read every single word I can honestly say – "it's brilliant".
Villa Gabriella.  Ionian Luxury.  Immerse yourself.
The fierce courage of the men and women of the Greek Resistance is brought to vivid life in Sunday Times bestseller Simon Scarrow's powerful new novel of World War II.
1938. A perfect summer on the Greek island of Lefkas for three young people untroubled by the simmering politics of Europe. Peter, visiting from Germany while his father leads an archaeological dig, has become close friends with locals Andreas and Eleni. As the world slides towards conflict and Peter is forced to leave, they swear to meet again.
1943: Andreas and Eleni have joined the partisan forces resisting the German invasion. Peter has returned – now a dangerously well-informed enemy intelligence officer. A friendship formed in peace will turn into a desperate battle between enemies sworn to sacrifice everything for the countries that they love…