Considering a luxury villa vacation in Greece?  Consider Lefkada – the unspoilt gem of the Ionian and book yourself a vacation in the luxurious Villa Gabriella.  Set in total solitude on a quiet hillside above the seafront town of Nidri, Villa Gabriella offers unmatched views.  Look across the verdant green of the Princess islands amidst the deep blue of the Ionian.  All set against the backdrop of the Greek mainland in the distance.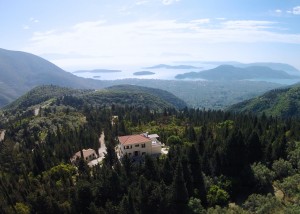 Villa Gabriella is equipped with a private infinity pool, large hot tub and four ensuite bedrooms.  All helping make it a perfect choice for your luxury villa vacation.
Lefkada itself has a unique benefit amongst Greek islands – a bridge connection to the mainland.  No need to worry about ferries you can drive on or off the island 24/7.
Lefkada is a treasure of Greek history surrounded by some of the most stunning beaches in the world.  Egremini beach on the west coast is a stunning jewel fringed by crystal azure waters.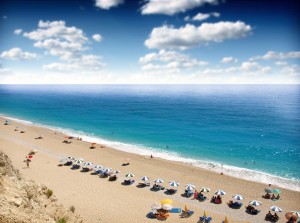 Vasiliki on the south coast is one of the finest windsurfing bays in Europe.  And the highly protected east coast beaches are perfect for families and children.
Villa Gabriella itself is perfectly positioned to make the most of all aspects of the island.  Its' unique position amidst a forest ensures total privacy.  Yet within a few minutes you can be in the bustling seafront town of Nidri with a huge choice of tavernas, restaurants, bars and coffee shops.
Finished to the very highest standards Villa Gabriella offers complete luxury for up to eight guests.  Take the video tours located here for a closer look.
Villa Gabriella's south easterly disposition means you're perfectly placed to see some of the most stunning sunrises on the planet.  It also means that the pool terrace enjoys sunshine from shortly after sunrise until late afternoon.  With some well placed shade on both the pool terrace and the dining terrace you're perfectly equipped to enjoy the stunning Ionian sunshine during your luxury villa vacation on Lefkada.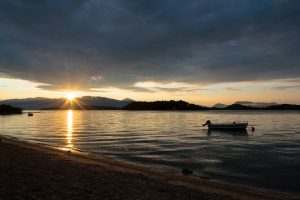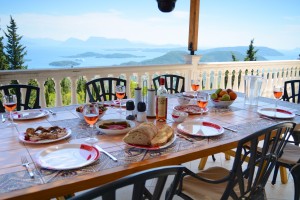 Villa Gabriella.  Ionian Luxury.  Immerse yourself.