Villa Gabriella is the perfect place to celebrate your Lefkada Wedding.  Earlier this month Helena and Gareth celebrated their Lefkada Wedding with their friends and family at Villa Gabriella.  They then spent the first days of their honeymoon enjoying the privacy of Villa Gabriella's hillside location.  Overlooking the beauty of the Ionian sea and bathed in the warmth of the Greek summer sunshine it's a fantastic place to start married life together.
All of us at Villa Gabriella were thrilled to host the wedding party and we wish the newlyweds every happiness in their life together.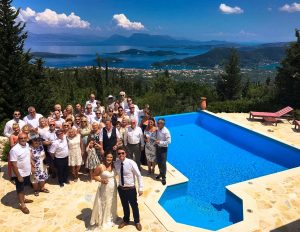 If you're looking for a stunning location for your wedding party or honeymoon then there's nowhere better than Villa Gabriella.  A Lefkada Wedding blends Greek traditions with the relaxed atmosphere of an Ionian island.  Villa Gabriella offers you privacy, tranquility and luxury and of course those stunning views.  A perfect combination for a very special occasion.
Please get in touch with us if you're thinking about celebrating your wedding on Lefkada.  We can help with not just Villa Gabriella's luxury accommodation but with event logistics and catering if needed.
Villa Gabriella.  Ionian Luxury.  Immerse yourself.