A real delight for any luxury villa holiday in Greece is the chance to have a relaxed evening dinner on the terrace.  You'll find a fine selection of fresh, largely locally sourced, ingredients offered on the island.  There are all the usual Greek offerings; fabulous feta cheese, tasty locally grown tomatoes and cucumbers, freshly baked bread and local honey and island wines.
By way of advice you'll also find a truly beautiful butcher in the centre of Lefkada.  Even better it's conveniently situated next door to the most wonderful patisserie.  We would heartily recommend stocking up on the beautiful meats available and firing up Villa Gabriella's barbecue.  Wash your barbecued meat down with some excellent local wine from the Lefkas Earth Winery.  You'll find this in some of the shops in Nidri.  Or try a trip to the winery itself located on the road down to Sivota that's both a beautiful drive and a charming visit.
Accompany your barbecue with a freshly made Greek salad and then conclude dinner with some beautiful deserts from the Gazis patisserie.  This little gem is located by the corner of the streets of "Politechniou" and "Koutoumpi" in Lefkas town.  Their contact details are on the card in this post.  We've also added a small screenshot of the Lefkada map that might help you to find them.  That said, a gentle wander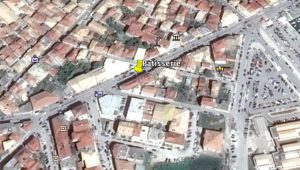 around the centre of Lefkas town is a pleasant way to spend an hour in the morning.  After all, you're on your luxury villa holiday in Greece so what's the rush?
And a few hours later as you're enjoying dinner, soak up the warmth of an Ionian summer evening and take in the stunning night time view from Villa Gabriella's terrace.  The lights of Nidri are below in the foreground, the Princess Islands sit in the moonlit Ionian and the Greek mainland frames the horizon.
Good food, good wine, good company and a view to die for! The essence of relaxation during your luxury villa holiday in Greece.
Villa Gabriella.  Ionian Luxury.  Immerse yourself.