Greek Villa Holidays summer season 2016 has started with high levels of bookings at Villa Gabriella (and we understand for Greek Villa Holidays across the island in general). As at today our remaining availability for the season is as follows.
May 11th to June 8th. These "early bird" and "low season" weeks tie in nicely to the new for 2016 Wednesday to Wednesday Easyjet flight schedule from London Gatwick allowing you to enjoy lower flight costs and lovely early summer weather.   The beauty of your Greek Villa Holidays at Villa Gabriella and Lefkada is enhanced by the quieter off-peak pace of the island. Prices for these weeks start at just 1,995 Euro for up to eight people.
June 22nd to July 10th. These weeks are heading into high season but still offer great value ranging from 3,495 to 4,895 Euro before the true high season and full heat of summer. Flights could be linked to either Wednesdays or Sundays depending on your preference.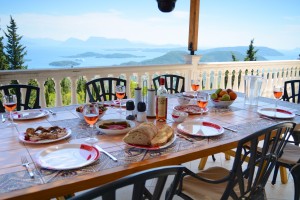 We have just two peak season slots left. The week of July 17th – 24th (Sunday to Sunday) at the rate of 5,795 Euro.
And an interesting option for someone wanting a ten day holiday from 31st July to 10th August at a rate of 827 Euro per day (minimum 7 days).
We're really looking forward to getting our third season underway and welcoming new guests to Villa Gabriella for their Greek Villa Holidays in 2016.