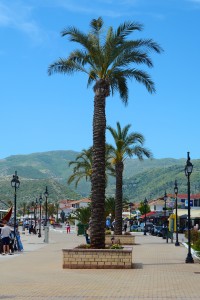 As the island of Lefkada quietens down after the vacation high-season it's less crowded along the pretty quayside in Nidri town. Seats are easy to find in the array of cafés; waiters look a little less rushed in the restaurants and tavernas and life generally takes on an even more relaxed demeanour – if that were possible!
As you enjoy a relaxed vacation stroll along Nidri quayside there's time to take in the beautiful flowers, stopping for a great photograph. Or stop and admire the statue of the town's most famous visitor, Aristotle Onassis.  For more information on Onassis and his connections to the area see his Wikipedia entry –   Aristotle Onassis .  Or simply take your time choosing a café for your morning Frappé amidst the warm late-summer sunshine or after your dinner indulge yourself with an evening Metaxa in the slightly cooler September evenings.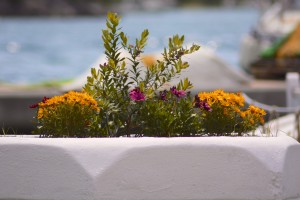 For those who don't need to take their vacation during the July or August peak, September on Lefkada really is a wonderful time to enjoy the town, Lefkada island and of course the luxury of Villa Gabriella.  Not to mention you can benefit from our much lower prices whilst still enjoying perfect weather and whilst avoiding the crowds.  What's not to like?
Villa Gabriella. Ionian Luxury. Immerse yourself.