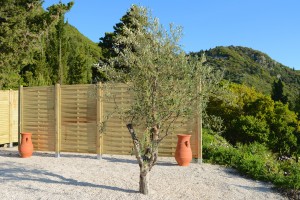 With the summer season just starting Villa Gabriella is pleased to welcome our first villa holiday guests this weekend.  With some final work being done over the last couple of weeks the villa is looking fantastic in the early summer sunshine.
Firstly, we're please to report that our new Olive tree planted last autumn has taken beautifully and is thriving in it's new location.
The solar pool heating system has been operating for a couple of weeks now and seems to be adding a useful couple of degrees to the pool compared to last year.  We've used seven Athena pods from the helpful people at World of Pools (see below).  This should make the pool much more useable in May/June and September/October.  It's been installed so that it can be bypassed in July/August to avoid over-heating the water for our villa holiday guests.  Today's temperature is about 25C.
We've also been busy planting in the gardens and extending the watering system to make sure the new plants get plenty of water. There won't, to be honest, be much benefit this year but over the next year or two we should add a lot more colour to the gardens. Set against the green of the forest we hope the gardens will be a blaze of colour on the hillside for our 2016 villa holiday guests.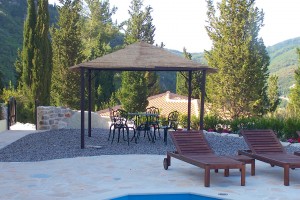 The poolside pagoda has been recovered in bamboo matting, blending in with the rest of the house much better.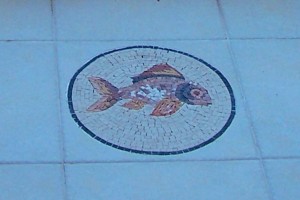 And our beautiful fish mosaic from Madaba in Jordan has been cut into the terrace at the entrance to the hot tub.
We've also been working on a video filmed from the air and the still pictures taken at the same time. We'll be posting those in the next week or two for all our villa holiday guests and friends to see – so keep an eye on this space.
http://www.worldofpools.com/athena-solar-sun-domes-details.htm