It's a truly beautiful morning here at Villa Gabriella.  We've been doing some aerial photography and we hope you like our first attempt.  It's hard in words, or pictures from the ground, to show the true beauty of the location and solitude that Villa Gabriella Lefkada enjoys.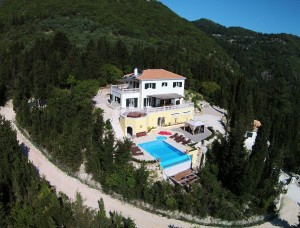 We think these pictures give you a much better idea.  You can see the villa and pool from above, surrounded by the forest above Nidri.  And you can see the view from behind the villa looking out across the stunning views of the Ionian sea.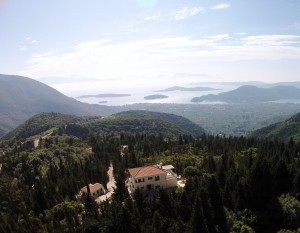 Although it's only a 7 or 8 minute drive from the luxury of Villa Gabriella to the coast, the location allows you to enjoy true peace and quiet.  The forest around the villa means fabulous oxygen rich air too!  And it means you get these beautiful views across the Ionian including the islands of Skorpios and Madhouri with the Greek mainland lost in the gentle heat haze of today's sunshine.
Most importantly the location gives you the true luxury of absolute solitude – so hard to find in the busy world of the 21st Century.  The peace and quiet that Villa Gabriella's location gives you is an important part of any holiday.  Whilst most Greek islands offer a "get away from it all" feeling few can match the beauty of Lefkada.  This forested island really is a green jewel that shimmers in the middle of the azure blue of the Ionian sea.  On Lefkada itself very few places can match the stunning beauty of Villa Gabriella's location.
Thanks for reading this week's blog and we hope you like the pictures.  In case you're interested they were taken from our new DJI Phantom drone.  www.dji.com/product/phantom-2-vision-plus
Villa Gabriella Lefkada.  Ionian Luxury. Immerse yourself.