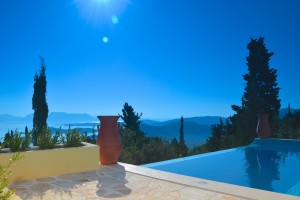 Villa Gabriella's remaining 2015 weeks continue to fill up. That said we still have one fantastic opportunity for a great value, low season week before the peak summer season. We've got the week starting June 7th available for just 2,495 Euro. This is the last week until the peak season week that starts July 19th so we don't expect it to be available for much longer.
In June the weather on Lefkada is fantastic. Before the heat of the Ionian summer in July and August, Lefkada's typical daytime highs in June are around 26C.  Perfect weather for sunbathing; perfect weather for exploring the island – the choice is yours.
You can enjoy the very best of Greece before the busier high season weeks.  You'll find the island is quieter and just a bit more relaxed.  Enjoy Villa Gabriella's luxurious hot tub, heated to 38C, if you find the sea a little cool at about 22C. The hot tub is perfectly positioned with a stunning view that overlooks the lush green hillside with the town of Nidri below.  The view then extends across the beautiful deep blue of the Ionian sea.  And on to the Greek mainland on the distant horizon.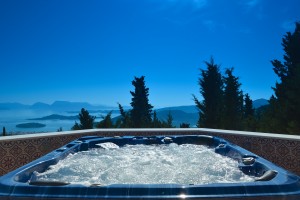 You can sit out for dinner on Villa Gabriella's terrace with the heat lamp allowing you to fully appreciate the beautiful evenings.  And you can see the same stunning view by moonlight whilst you enjoy some freshly barbecued meat or locally caught fish accompanied by a fresh Greek salad.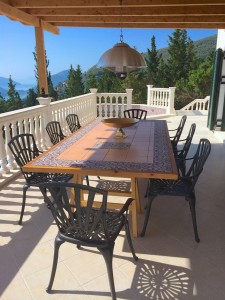 http://www.holiday-weather.com/lefkada/averages/june/
As this is an off peak week there are some great deals to be had on flights as well. Flights from London are just £279 per person return, including baggage.   Landing at Preveza airport means you have just a 40 minute drive before you're enjoying Villa Gabriella.
http://search.charterflights.co.uk/fusion/flexiflights.pl?sessionkey=ACE599E0~1304s4D2F-8B93-66BA092C90A0&resultkey=default
Villa Gabriella. Ionian Luxury.  Immerse yourself.