When you're choosing an Ionian villa for your holiday it's great to be able to take a virtual tour of the villa so you know exactly what you're getting. At Villa Gabriella Lefkada we've partnered with Matterport and the fantastic team at VMR Draughting to produce a 360 degree walkthrough of this beautiful villa. Walk through each and every room, see and feel the space, see the decor, read the information and understand exactly what you're getting from your Ionian villa.
Take the 3D tour here.
Four bedrooms. All Ensuite. No sofa beds!
Lots of villas will tell you they sleep 8 people. Few do so in true luxury. We offer 4 generously sized bedrooms, 4 bath or shower rooms and absolutely no pull out beds or sofa beds in the living spaces (although we can do up to two cots or beds for small children in the two largest bedrooms).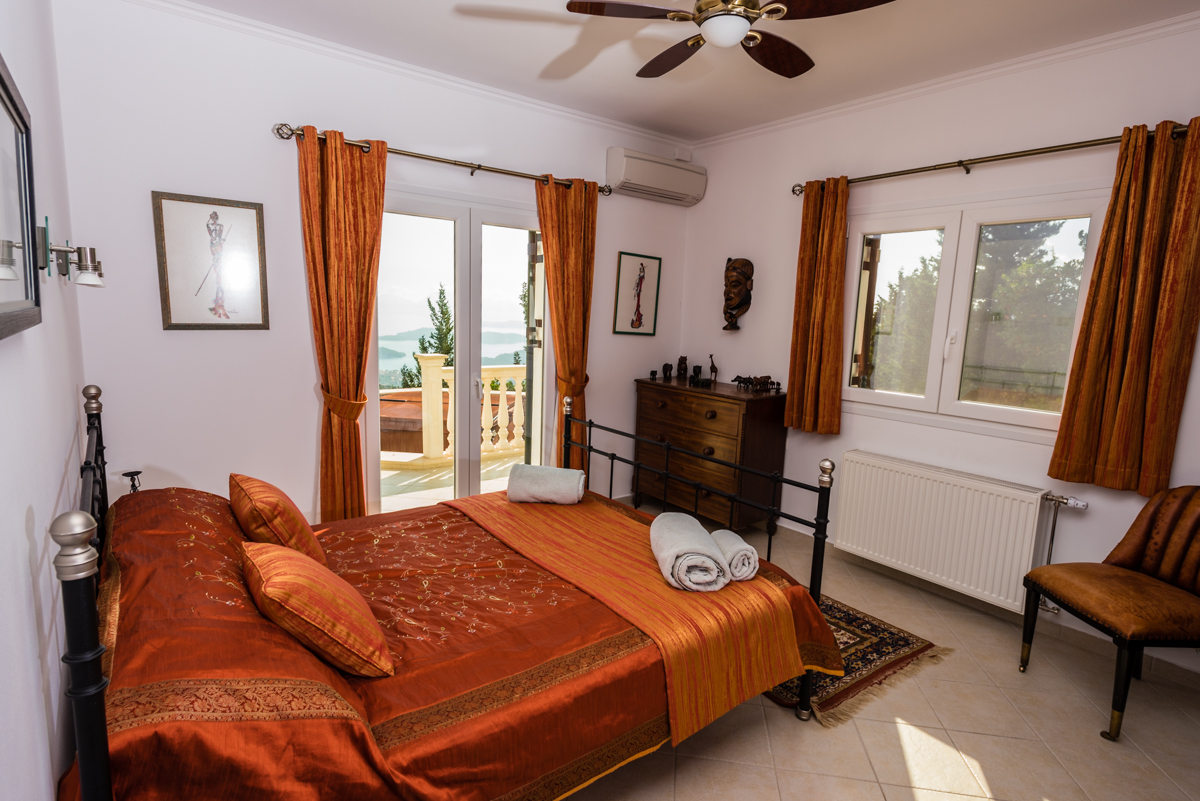 When you're on holiday you want to relax. You probably need to relax. And that's much easier when everyone has their own private sleeping space and their own bathroom. This comfort and privacy is a defining characteristic of a truly luxurious Ionian villa.
Private spaces
And when you travel as a large family or a group whilst you want to be together it's also nice when everyone can find a "private space" to chill. At Villa Gabriella we have loads of these. There's the pergola on the pool terrace complete with pull down sun blinds. The poolside chill out bar and lounge – cool and shady on a hot afternoon. Then there's the outside lounge, finished with large comfy sofas and shaded but with a beautiful breeze. Or try the hot tub, tucked away amidst the trees with a stunning view across the Princess Islands. And the master bedroom has its own private terrace with more great taking views. This is true Ionian villa luxury.
And when the day is done, you can congregate together around the generously sized dining table. Fire up the barbecue, pull a cork on some great Greek wine and share the Ionian villa holiday experience.
Check our remaining 2022 availability here. or ask about an early booking discount for 2023.
Villa Gabriella. Ionian luxury. Immerse yourself.