Visitors to Lefkada are seduced by the sheer variety of activities on the azure blue waters surrounding the island.  There's a host of activities to delight all age groups in addition to the joy of swimming and snorkelling.  So, when searching for your ideal Ionian villa with pool, consider the extensive range of "on water" activities just a short drive from Villa Gabriella.
Swim
Serious swimmers may enjoy a swimming adventure holiday. Try a tour of escorted island crossings and coastal swims in the Ionian.  Swimming around 5km per day in the clear turquoise waters known as the 'inland sea' (as it is so well protected from the wind) is a great way to exercise during your holiday!  And it allows you to enjoy the great food at numerous tavernas close by your Ionian villa with pool.
Windsurfing, Kayaks & SUPs
Tuition is available for dinghy sailing, windsurfing, sea kayaking and stand-up paddle boarding (or SUP boarding).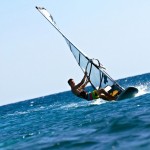 The principal centres are in Nidri (try Horizon Watersports), on the East coast of the island just below Villa Gabriella.  And at Vassiliki on the South – about a 20 minute drive away.  If you're a little more experienced, you may just hire the equipment and enjoy the experience without the tuition.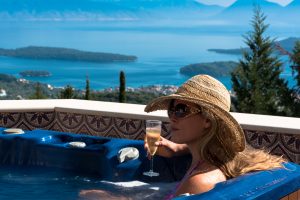 Expect to pay approximately Euro 10 per hour. The "middle" option is to enjoy a guided tour on a paddle board or sea kayak.   This is a wonderful way to be out on the water and explore the islands around Lefkada.  When you're finished your activities, retreat to your Ionian villa with pool and relax in your very own hot tub.
Cruise
Complete your holiday to Lefkada with a day cruise around the forgotten islands dotted across the calm, turquoise sea off the East coast.  From larger, mountainous islands to tiny rocky formations in the middle of the sea, a day or evening under the stars will take your breath away.  Try cruising on the beautiful MS Christina from Nidri quayside.
Fish
Experience a full day or half day fishing boat trip from Lefkada island.  Here traditional fishermen will show you the best fishing places to visit depending on the weather and season; and they'll guide you to the most magnificent beaches on the island. All the boats carry the fishing equipment that you'll need – with techniques and their history explained.   At the end of your day, recommendations are made to a taverna where they will cook your catch for you to enjoy.
Explore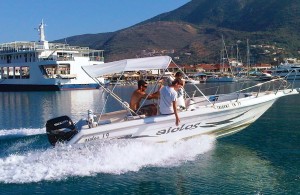 You can create your own adventure and explore Lefkada's impressive beaches, peninsulas and coves by renting from a range of reliable motorboats, speedboats and ribs covering all needs and preferences.  Expert staff can offer instruction to those new to boats.  And they can provide a full description of the area with a local chart.  Try our friends at Trident Yachts in Nidri.
Sail
Make the most of the excellent sailing conditions around Lefkada and charter a yacht from a multitude of companies on the island.  If certified, you can explore further afield with a Bareboat Yacht Charter.
Cruise the calm morning waters to discover many of the beautiful bays.  And sail on afternoon winds to enjoy the cool waters and numerous islands.  Those new to sailing may have a skippered charter to sail your chosen route around the Ionian seas.  Use the time to relax or spend your charter learning to sail – just one more benefit of your Ionian villa with pool.
For the adrenaline junkies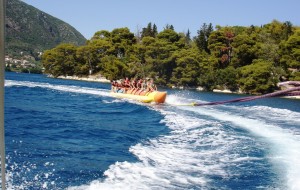 To raise your adrenaline, a wide range of water sports are available on both the East and West coasts.  Jet Ski or Water-Ski if high-speed thrills excite you.  Try the Banana, Fly-fish or the Rings but hold on tight!  Or for those looking for more relaxing fun try Pedal boats or Parasailing.
Take a look at our summer 2019 availability here.
Villa Gabriella.  Ionian Luxury.  Immerse yourself.