We've been busy preparing the gardens at Villa Gabriella for the summer season so your luxury villa rental Greece lives up to your every expectation.  Between the complete luxury inside Villa Gabriella and the stunning views across the Ionian or the cypress forested hillside behind, lie our upper and lower gardens.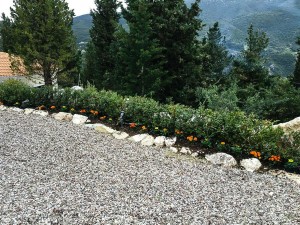 Our stunning location means we're not blessed with the finest natural soil so after the expected post-winter weeding and tidying we've been improving the soil before planting out a stunning section of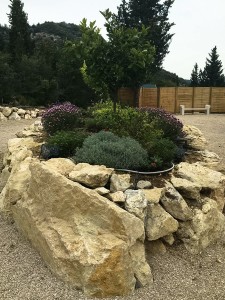 annuals. These will add vivid splashes of colour amidst the lush natural greens of the location throughout the season.
They will need a few weeks to settle and flourish but they'll will soon surround the upper garden terrace and the lower pool terrace with a blaze of colours that will provide one finishing touch to the luxurious surroundings of Villa Gabriella during the 2016 Greek summer.
Of course we've restarted the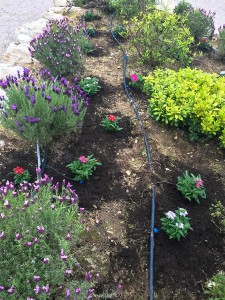 automatic watering system as the winter rains are well and truly behind us now and it's important we keep the gardens fed with a gentle trickle of water for 15 minutes both morning and evening.
It's a little overcast today on Lefkada but the forecast promises warm spring weather will be with us by the start of the coming week. What better excuse  to focus on your villa rental Greece for your perfect summer holiday in 2016.  Choose the beautiful Ionian island of Lefkada and we'd love to welcome you to Villa Gabriella Lefkada.  By the time you arrive the garden should be a blaze of colour and just one more perfect place to relax at Villa Gabriella.
Villa Gabriella.  Ionian Luxury.  Immerse yourself.