With spring weather in abundance across Lefkada, the Ionian and Greece there are so many great visits just a short drive from the luxury of Villa Gabriella. These include the beautiful Panagia Faneromeni (also called the Monastery of the Blessed Virgin Mary Revealed) on Friniou Hill outside the town of Lefkas.  The monastery is said to be the protector of Lefkada island and the site enjoys spectacular views across Agios Giannis Beach.  The monastery's antiquity and beauty mark it out as one of the most significant historic and cultural sites on the island and make it well worth a visit during your stay at Villa Gabriella.
The history of the site started in 63 AD when three students of the Apostle Paul (Aquila, Sosiona and Herodion) were sent to Lefkada. Christian history tells that when Herodian knelt and prayed at the site of an ancient temple dedicated to Artemis, the goddess of hunting, the icon of Artemis fell to the ground. This good omen led to the site becoming a shrine to the Virgin Mary. Sosiona founded the monastery and was subsequently ordained as Lefkada's first Bishop.  269 years later in 332 AD, a bishop and two monks settled at the site and founded the Monastery. They constructed the first cells, extended the shrine to become a church and established monastic life at Faneromeni.
A highlight of any visit is the image of the Virgin Mary. This 1887 creation is a copy created by a monk (Benjamin Kontrki) from the Mount Athos monastery – see link below. Also during your visit you can see some of the works of Leonidas Sideris that feature various images from the New Testament.
Faneromeni monastery was recently renovated including the construction of a library and a chapel dedicated to Silouan the Athonite.  http://en.wikipedia.org/wiki/Silouan_the_Athonite
A modern building on the site houses the new Ecclesiastical Museum of the Monastery with a wide range of fascinating ecclesiastical art, icons, clothing, books and insights into the cultural development of Lefkada.
Take the time during your stay – it's a really worthwhile visit!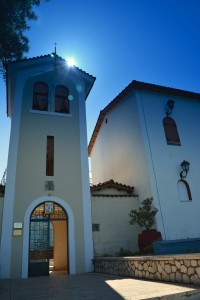 http://en.wikipedia.org/wiki/Mount_Athos