The hot tub is up and running to start the summer at Villa Gabriella Lefkada.  With our first rental guests due to arrive in just over a week the hot tub is bubbling nicely at 38C.  Day or night relax in the bubbles as you soak up one of the Ionian's finest views.  Perhaps even one of Greece's finest views.  The hot tub seats six in comfort including one full length "lounger".  Use Villa Gabriella's "Large Jambox" bluetooth speaker to enjoy your favourite music as the water gently bubbles around you – absolute luxury!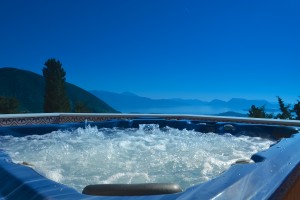 Villa Gabriella's hot tub sits on top of the poolside "chill lounge" at the end of the dining terrace.  This elevated position gives you a remarkable view across the forested hillside.  You'll see over the town of Nidri and then across the azure blue of the Ionian sea.   Dotted in the sea are bright green islands including the famous Skorpios of Onassis family history.  See yachts sailing from island to island – the shape of their sails an indication of the cooling breeze so typical of Ionian afternoons.  On the far horizon is mainland Greece shimmering in a gentle heat haze.  At night the same view is lit by moonlight and the lights of Nidri sparkle on the coast below.
Whether you've had a hard day windsurfing at Vasiliki, or you're aching from wandering the quaint streets and shops of Lefkada town, Villa Gabriella's hot tub can ease your aches.  And if the hot tub is simply part of a lazy day by Villa Gabriella's pool – well that's OK too!
Villa Gabriella.  Ionian Luxury.  Immerse yourself.