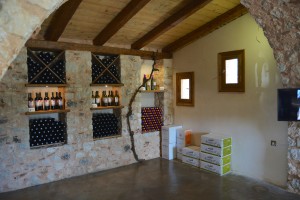 The climate on Lefkada with its wetter winters and hot dry summers creates a climate that helps produce some of the finest wines in Greece.
A visit to some of the wineries during your stay offers the opportunity to buy something to help wash down your dinner whilst gazing at the view from Villa Gabriella's dining terrace.
Lefkada is famous for its prize-winning wines and the history of viniculture on the island dates back to antiquity. The most commonly found varieties on Lefkada are Vardea and Vertzami. The white Vardea is more commonly grown in the southerly villages of the island including Agios Petros, Sivros and Vassiliki. This grape originates from Italy, in this case Tuscany. It's rather less common in viniculture although this golden skinned grape is found in sweet wines from the north west of Italy. On Lefkada however the wine makers turn it into a fresh dry white wine that is a great accompaniment to locally caught fresh fish. But it also works with Feta – balancing the naturally salty and tangy characteristics of this Greek cheese.
Vertzami though is a grape commonly found in Greek vineyards. It's widely cultivated in the central areas of Greece and Cyprus – where it is actually known as "Lefkas" – despite it too being originally imported by the Venetians. It produces a wine with a deep red colour.  Well-made examples exhibit bay leaf, cinnamon and berry aromas that balance good acidity and typically deliver high levels of alcohol. Find one in a local restaurant that is serving the traditional Greek dish of Stiffado, and you've found a perfect match of plate and glass! If you take it home to try, pair it with some local lamb grilled on Villa Gabriella's barbecue.
You'll find a number of wineries to visit on the island, each with a passion for their products.  Simply Google "Lefkada wines" – you'll get enough links on the first page to have you in a different winery each day the week. But just to get you started here are a couple of choices.
At Lefkas Earth wines they have their own visitor centre that's open daily throughout the summer. Located on the road between Nidri and Vassiliki, about 20 minutes from Villa Gabriella, the facility is worth a visit to learn a little more about Lefkadian viniculture and sample their wines.
http://www.lefkaditikigi.gr/index.php?l=2#!/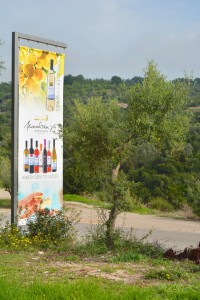 You'll find an equally fascinating experience after a memorable drive if you choose to visit "Siflogo" winery located in the village of Platistoma high in the hills of the interior.  Again this is about 20 minutes drive from Villa Gabriella. The drive offers several opportunities to take in a range of spectacular views as you wind your way through the interior of the island. To visit Siflogo you need to book ahead on 26450 41674 or 697 321 7833.
http://www.siflogo-lefkada.gr/pages/en/index.php
Whether you visit either of these wineries, or any of the other choices, as you hunt your own wines from the source; or whether the local supermarket is your choice – please take the chance to sample the Lefkada wines – they are worth the effort and they suit the local food perfectly.