One of the great things about a Greek villa holiday is the wonderful ease with which you can blend the culture and heritage of Greece  with simple relaxation on some of the most stunning beaches in the world.  On Lefkada one of the many fabulous cultural sights is the church of Profitis Ilias.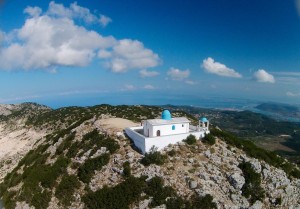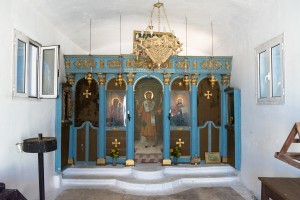 Perched on a hilltop on one the highest and most remote points of Lefkada this tiny church is about a 45 minute drive up through the hills from Villa Gabriella.  The drive itself gives you a chance to sample the simple, rural interior of the island, with some of the villages seeming almost to be stuck in a time warp as you pass through the narrow roads climbing dramatically from Villa Gabriella to the high interior plateau of Lefkada.
During the drive you'll enjoy any number of stunning views with many bends or corners opening new vistas or new angles on vistas you've seen before – all improbably beautiful.  But once you get to the church you'll enjoy some of the most stunning views of the island, through 360 degrees, that it's possible to experience from anywhere.
Whilst the outside of the church itself is quite unremarkable, save for it's stunning location, the interior is a revelation.  The tiny single room features an altar and decorations that are stunningly beautiful and I'm afraid our picture doesn't do the interior justice.
During your Greek villa holiday at Villa Gabriella we highly recommend the trip to the church.  We'd recommend either leaving early or perhaps heading up for sunset.  Whilst it's unlikely to be busy at any time, it's almost sure to be deserted at those times and there can be few finer places in which to enjoy the tranquility, remoteness and solitude of such a beautiful location.
Villa Gabriella.  Ionian Luxury.  Immerse yourself.